March, 27, 2015
Mar 27
3:00
PM ET
When the Detroit Lions held the No. 10 pick in the draft a year ago, they went with what they believed would be the best player available instead of filling an obvious need.
Of course, the players taken almost immediately after tight end Eric Ebron ended up making massive splashes in both areas. It's been long understood the Lions passed on receiver Odell Beckham Jr., defensive tackle Aaron Donald and offensive lineman Zack Martin to take Ebron. All three of those players made the Pro Bowl.
[+] Enlarge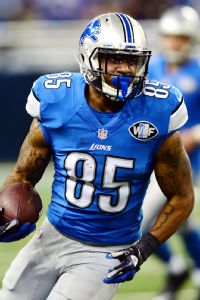 Andrew Weber/USA TODAY SportsThe Lions are expecting more out of tight end Eric Ebron after a modest rookie season.
Ebron had an inconsistent rookie season.
Lions coach Jim Caldwell, though, believes players such as Donald, Beckham and Buffalo receiver Sammy Watkins, whom Detroit coveted, run against the norm for rookies.
"I think you guys are looking at outliers," Caldwell said. "You're thinking about Sammy Watkins. You're thinking about a couple other guys that had really good years but that's not the norm. The norm is like some of them that you don't know exist now on the roster but they come along and mature as time goes on.
"[Ebron] is in a normal progression, I think. We'd like to see it come along faster. I got patience but I don't got a lot of time. I think he'll come along."
Ebron played in 13 games last season, making 25 catches on 48 targets for 248 yards and one touchdown. He averaged 9.9 yards a reception and became more of a factor in the passing game as the season wore on. After returning from a hamstring injury in Week 11, he had four or more targets in all but two games, including seven targets against Green Bay in the regular-season finale and eight against New England in Week 12.
He never had more than four receptions or 38 yards in a game, but Caldwell believes the progression will come in his second season.
"We certainly don't believe he's hit his stride in that sense," Caldwell said. "He's one of those guys who has worked. Let me tell you something. His offseason to this point has been pretty impressive.
"I'm anticipating, just because I know what he's been doing and he's been working at it. I'm anticipating to see a pretty significant rise in his performance."
What tells Caldwell that, especially since he can't work with him until April? Some of what he saw toward the end of the season.
"Familiarity with our system. Ability to run routes the way we would like to see them run consistently," Caldwell said. "He's shown flashes. Those are the key things. He improved on his blocking, there's no question about that, at the line of scrimmage. Tremendous job of coming along in that particular area.
"But don't get me wrong, it's not like all of a sudden he's going to be Charlie Sanders. But he's going to be much better than he was."