Top 50 coaches: No. 9 John Beilein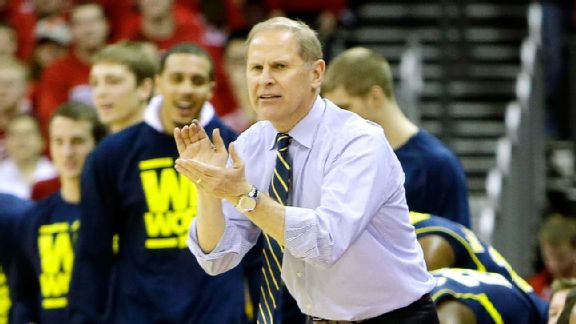 Mike McGinnis/Getty ImagesJohn Beilein worked his way to the top, learning to coach the way that made him comfortable.
Editor's note: During the next five weeks, we will reveal the top 50 coaches in college basketball as decided by our ESPN Forecast panel. Today we unveil No. 9: Michigan's John Beilein. On Wednesday, we release No. 8.
---
In 2007, at age 54, John Beilein became the head men's basketball coach at the University of Michigan. He was well-known for his five years at West Virginia, probably best for the deep 2004-05 tournament run he made with Mike Gansey and Kevin Pittsnogle. But as much as anything else, Beilein was known for his unusual tactical style.
The system that took a seemingly outmanned West Virginia group to the brink of 2005 Final Four came out of nowhere, and seemed fully formed. Gansey and Pittsnogle were perfect centerpieces for the 1-3-1 zone defense and the two-guard front -- an old-time offense more out of fashion than Latin. In reality, Beilein picked it up in the course of his atypical 30-year rise to the top of his profession. The two-guard front was smart, precise, almost unassuming. The system mirrored the man.
Beilein began his coaching career at Newfane (N.Y.) High School in 1975. He was 22. His first job was his first as a head coach, and it's worth noting as much because this would become a theme. Beilein didn't know what he was doing back then, he's since admitted, so he did what all of the other coaches were doing: flex offense, straight motion, set plays, man-to-man. He tried on different identities. He coached like a man in his 20s.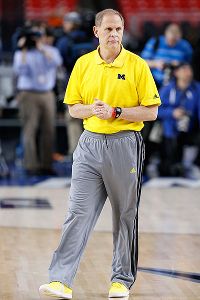 Kevin C. Cox/Getty ImagesThe rise of John Beilein didn't happen overnight. But after all these years, here he stands.
He was good, though, so by 1978 he was the head coach at Erie Community College, and in 1983 he had already worked his way up to LeMoyne. His team wasn't very talented and "wasn't good with set plays," he'd later say, so his uncle recommended the old two-guard front. It fit his personnel. It put a premium on basketball intuition. For the next nine years, playing in the local shadow of 1980s-era Syracuse, Beilein mastered the two-guard front.
That might be the most interesting thing about John Beilein: He learned on the job. And because he learned on the job -- because he was never a graduate-level video coordinator, never an assistant coach -- he was never bequeathed some set of inviolable basketball principles. For almost three decades, Beilein had to figure out how to take a tricky equation -- "less talent than opposing team + x = winning" and sum for x. By the time he was at West Virginia, after stops at Canisius and Richmond, he had things pretty much figured out.
And now? Now he's just a ton of fun to watch.
It's always a fun thought experiment: What could one coach do with another coach's players? Who really gets the most out of his talent? Beilein's past two seasons have been a real-life version of the answer. For almost all of his career, Beilein's players were less talented than his opponents. Not that they were always straight-up worse at basketball; talent means a lot of things. They were usually undersized or less athletic or both. West Virginia was like that. The first few seasons at Michigan were like that, too. Beilein struggled to figure out Manny Harris (and Ekpe Udoh, believe it or not) in his first two seasons. But the Wolverines got better, gradually and patiently, even as Beilein gave huge minutes to guys like Zack Novak (a 6-foot-5 wing who often found himself stuck defending the low post) and Stu Douglass (whose contributions were rarely felt in the box score).
Then the breakthrough came. In 2011-12, Beilein inserted a little-known point guard named Trey Burke into his starting lineup. Burke had played with Jared Sullinger at his Columbus, Ohio, high school, so he got plenty of recruiting looks. When he signed with Michigan, he ranked outside the top 100 players in the country.
Burke was brilliant from the start of his freshman year. In 2012-13, he was even better, and at that point he was surrounded by the kind of talent Beilein had never coached before -- a top-10 center in Mitch McGary, Glenn Robinson's and Tim Hardaway's highly touted progeny, a sweet-shooting and joyously cocky 6-6 Canadian (Nik Stauskas). Beilein's system had never been as rigid as the popular impression; it just looked that way because it was different. But last season, Beilein adapted brilliantly. Isolations, pick-and-rolls, simple stuff -- the stuff you do when your team is better than the opponent -- joined forces with the system you use when you have ground to make up. The result was a few plays shy of a national title.
Michigan wasn't supposed to be as good this past season. Not before the season, after Burke and Hardaway had left for the NBA. Not during the season, when McGary, who could have done the same, was hobbled and then sidelined by back surgery. But Michigan was so, so good: The Wolverines ranked No. 1 in the nation in adjusted offensive efficiency. Stauskas was unleashed onto a role -- angle-exploiting pull-up combo sharpshooter -- that Beilein practically invented just for him. But for Aaron Harrison's repeat buzzer-beater, Michigan might have been back in the Final Four again.
It took Beilein a lifetime to get to where he is now: indubitably successful, at the head of a well-funded high-major program, in charge of a tenacious group of assistant coaches and recruiters. And now, finally, the rest of us are getting to see just how good he really is.
It's a strange thing to say about a 61-year-old man, but it feels like his career has only just begun.
-- Eamonn Brennan
---
Previous: Nos. 50-25 » No. 24: McKillop » No. 23: McDermott » No. 22: Amaker »
• No. 21: Brown » No. 20: Matta » No. 19: Wright » No. 18: Fisher » No. 17: Few »
• No. 16: Williams » No. 15: Hoiberg » No. 14: Bennett » No. 13: Smart »
• No. 12: Boeheim » No. 11: Miller » No. 10: Ollie »
Full Top 50 Coaches List
No. 50: Tie -- Randy Bennett, Saint Mary's; Scott Drew, Baylor
No. 49: Richard Pitino, Minnesota
No. 48: Stew Morrill, Utah State
No. 47: Bob Hoffman, Mercer
No. 46: John Thompson III, Georgetown
No. 45: Mike Brey, Notre Dame
No. 44: Rick Barnes, Texas
No. 43: Chris Mack, Xavier
No. 42: Josh Pastner, Memphis
No. 41: Ed Cooley, Providence
No. 40: Bruce Weber, Kansas State
No. 39: Tubby Smith, Texas Tech
No. 38: Buzz Williams, Virginia Tech
No. 37: Rick Byrd, Belmont
No. 36: Steve Alford, UCLA
No. 35: Phil Martelli, Saint Joseph's
No. 34: Tad Boyle, Colorado
No. 33: Fran McCaffery, Iowa
No. 32: Tim Miles, Nebraska
No. 31: Lon Kruger, Oklahoma
No. 30: Bob Huggins, West Virginia
No. 29: Jim Crews, Saint Louis
No. 28: Jim Larranaga, Miami
No. 27: Mick Cronin, Cincinnati
No. 26: Archie Miller, Dayton
No. 25: Jamie Dixon, Pittsburgh
No. 24: Bob McKillop, Davidson
No. 23: Greg McDermott, Creighton
No. 22: Tommy Amaker, Harvard
No. 21: Larry Brown, SMU
No. 20: Thad Matta, Ohio State
No. 19: Jay Wright, Villanova
No. 18: Steve Fisher, San Diego State
No. 17: Mark Few, Gonzaga
No. 16: Roy Williams, North Carolina
No. 15: Fred Hoiberg, Iowa State
No. 14: Tony Bennett, Virginia
No. 13: Shaka Smart, VCU
No. 12: Jim Boeheim, Syracuse
No. 11: Sean Miller, Arizona
No. 10: Kevin Ollie, UConn
No. 9: John Beilein, Michigan
COACHES WHO JUST MISSED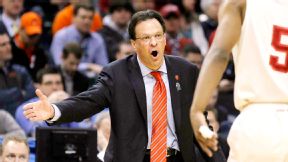 AP Photo/Kiichiro Sato
Some big names missed our list of top 50 coaches. Here are the 25 names who just missed, listed in alphabetical order.
Dana Altman, Oregon
Tim Cluess, Iona
Tom Crean, Indiana
Keith Dambrot, Akron
Johnny Dawkins, Stanford
Fran Dunphy, Temple
Leonard Hamilton, Florida State
Ben Jacobson, Northern Iowa
Derek Kellogg, Massachusetts
Larry Krystkowiak, Utah
Mike Lonergan, George Washington
Cuonzo Martin, California
Chris Mooney, Richmond
Craig Neal, New Mexico
Matt Painter, Purdue
Dave Paulsen, Bucknell
Bruce Pearl, Auburn
Steve Prohm, Murray State
Dave Rose, BYU
Herb Sendek, Arizona State
Kevin Stallings, Vanderbilt
Andy Toole, Robert Morris
Brad Underwood, Stephen F. Austin
Brian Wardle, Wisconsin-Green Bay
Michael White, Louisiana Tech
HOW DOES IT WORK?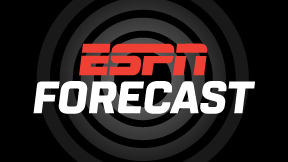 What is ESPN Forecast?
Our engine for creating more accurate sports predictions and opinion.
Does it work?
Yes. This is the future of forecasting, as demonstrated by the 2012 presidential election and Fortune 500 companies.
How does it work?
Our approach, in a nutshell, is to create a diverse panel of people with college basketball expertise and aggregate predictions and opinions. For ESPN Forecast, we have a panel of 45 members that collectively possess vast college basketball experience, knowledge and perspective.
Why does it work?
This panel has a collective intelligence that's greater than any individual member's knowledge and sharper than that of any single statistical system.
Diversity is a key factor in creating accurate predictions and opinion. The wisdom of the crowd comes from having diverse views that emerge from independent thinking.
The ESPN Forecast panel is a diverse mix of contributors from across the spectrum.
The result?
More accurate, insightful forecasts and views.
This is the wisdom of the crowd in action. This is ESPN Forecast.
COACHING CENTRAL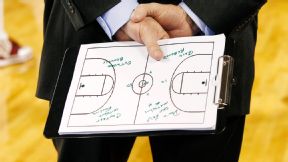 AP Photo/Mel Evans